Engaging LTC Summit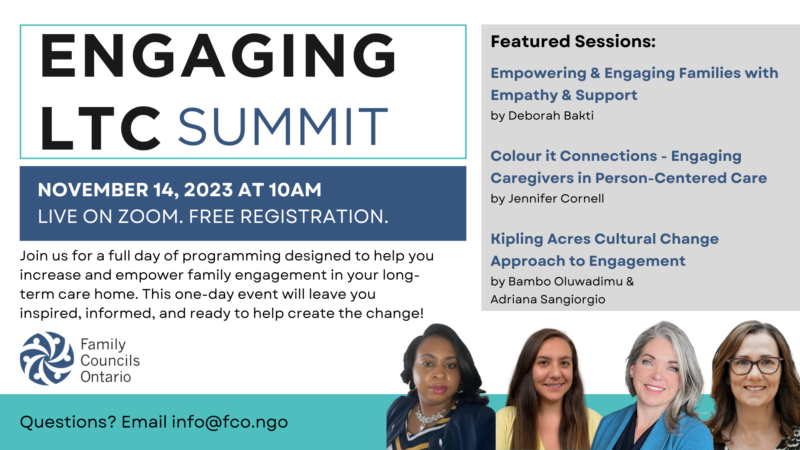 The long-term care sector is undergoing incredible change and transformation. From new legislation and research promoting family and friends as partners in care, to the increased role of family voices in home-specific policies and initiatives, it is clear that family caregivers are being called on like never before to provide their insights, share their lived experience and expertise, and collaborate with home staff. Family Councils Ontario is here to help caregivers, council members, and home leaders navigate and respond to the increasing requests for family engagement in sector transformation.
Join us for our one-day fall virtual summit filled with sessions outlining strategies for Family Councils and home staff to support family engagement within your long-term care home community. Our programming will feature a session on building empathy among families and home staff, a presentation that will help you better understand the powers of a Council and how they can be leveraged to make positive change, and much more! This one-day event will leave you inspired, informed, and ready to help create the change we need to see to transform the LTC sector into a vibrant place to live, work, and care.
Event Schedule
10:00am - 10:15am Welcome & Opening Remarks
10:15am - 11:15am Empowering and Engaging Families in Long-term Care Communities with Education, Empathy and Support
Presentation by: Deborah Bakti
As we collectively emerge from the shadows of the COVID pandemic, the relationship between families and staff within long-term care homes has grown increasingly strained and filled with friction. Families often arrive at these homes with a host of fears and concerns, accompanied by narratives that, to put it frankly, are neither positive nor constructive. Meanwhile, staff members harbor their own narratives and beliefs about families, shaped by prior challenging interactions, judgments, and coping mechanisms that only serve to exacerbate the existing tensions. In this enlightening webinar, Deborah will guide attendees on a transformative journey, fostering a newfound awareness among families regarding their pivotal role within their long-term care community. Participants will discover their potential to positively influence and enhance the quality of relationships with staff and managers. Whether they are family council members or newcomers to this unique environment, they will gain invaluable education and insights that they can readily apply and share. Empowered and informed families hold one of the keys to influencing the dynamics with staff and shaping the overall culture within their loved ones' home and community. Ultimately, all parties involved share a common goal: to provide the highest quality care and quality of life for the resident
11:15am - 11:30am Wellness Break
11:30am - 12:30pm Colour It Connections- Engaging Caregivers in the Vision of Person-Centered Care

Presentation by: Jennifer Cornell
Jennifer will share the story of their Colour It journey, highlighting a shared purpose that engages residents, families, and team members to work together to achieve positive change, along with initiatives that have evolved over the past years.
12:30pm - 1:30pm Lunch Break
1:30pm - 2:30pm Kipling Acres' Cultural Change Approach to Family Engagement: Introducing a Caregiver Support Group
Presentation by: Bambo Oluwadimu & Adriana Sangiorgio
Family engagement and two-way communication within the long-term care (LTC) home setting can be a determining factor in the level of family satisfaction experienced. While some families are satisfied with the minimum level of engagement with the LTC home, others are looking for opportunities to participate and interact. This session will provide an overview of Kipling Acres' cultural change approach to family engagement and the various opportunities that are available within the home through Family Council, quality improvement projects, Quality Committee and a new initiative, the Caregiver Support Group. Discover how these opportunities are fostering positive relationships within the Kipling Acres' community.
2:30pm - 3:00pm Networking & Breakout Rooms
3:00pm - 4:00pm Powers of a Family Council: Fact or Fiction?

Led by the FCO Team, this interactive session will explore the powers of a Family Council as written in the Fixing Long-term Care Act. Participants will examine common scenarios active Councils experience in their work and outline the impact for Councils when they pursue a specific course of action.
Speakers
Deborah Bakti
Deborah worked as an executive in seniors' care for 11 years, and during that time she became a resident's family member three times, with her husband, mom, and dad.
Those life changing experiences inspired her to leave her corporate career in 2017 so she could focus on helping seniors care homes and residents' families relate, appreciate and help each other as partners in care. After all, they have the same goal in mind - quality of life and care for their loved one and resident.
Deborah's the author of two books RECIPE for Empathy and Now What? which are playbooks for both care team members and families to be more intentional and relational in this key relationship - and create moments that matter.
Jennifer Cornell
Jennifer Cornell is the Director of Long-Term Care with the County of Grey, responsible for 3 Long Term Care homes: Grey Gables in Markdale, Lee Manor in Owen Sound, and Rockwood Terrace in Durham. She is a respected long-term care and health system leader with over twenty years of progressively senior leadership roles. Jennifer is a transformational leader focused on person-led quality care and service initiatives and has harnessed the Grey County's "Colour It Your Way" philosophy to bring about positive change through impactful relationships, inspiration, orchestration, and facilitation.
Bambo Oluwadimu
Bambo works as an Administrator at Kipling Acres. She has over 20 years of frontline and management experience in Nursing. Her work experience includes hospital, long term care, community, public health and Ministry of Health and Long Term Care.
Cathleen Edwards
Cathleen is excited to be part of the Family Councils Ontario team. Her passion for supporting families and advocating for inclusion draws inspiration from her work as a Recreation Professional in Long-Term Care.
Cathleen holds an Honours Bachelor of Human Kinetics from the University of Windsor and a Master of Arts in Health & Physical Education from Brock University. While at Brock University, she completed the Instructional Skills Workshop (ISW) and earned her Graduate Teaching Assistant Practicum Certificate from the Centre for Teaching, Learning and Educational Technology. She is an experienced instructor, facilitating courses in Physical Education, Recreation and Gerontology at Brock University, the University of Alberta, Seneca College and Durham College.
Prior to commencing her new role with Family Councils Ontario, Cathleen was the Work package 1 Coordinator for AGEWELL based out of the Toronto Rehabilitation Institute and a Professor in the Activation Coordination in Gerontology Program at Durham College.
In her spare time she enjoys swimming, singing, playing her Alto Saxophone and keeping up with her active toddler.
Tiffany Fearon
Tiffany is passionate about enhancing Long-Term Care through policy dialogue and community engagement to ensure Ontarians have equitable access to quality care. Tiffany holds an Honours B.A. from the University of Toronto in Gender Studies, Sociology and Criminology and obtained a Post Graduate Certificate with Honours in Alternative Dispute Resolution from Humber College. Her most recent academic feat was the completion of a Public Policy & Administration certificate from the University of Guelph. Tiffany joined the FCO team in 2018 to head Client Services and transitioned into the Policy & Research Manager position in Fall 2021. Although her role has shifted, she will continue to lead the organization's Diversity & Inclusion and Conflict Resolution portfolios.
Tiffany has one daughter and is an avid dance and soccer mom. In her spare time she enjoys reading, watching netflix series, and spending time with family and friends.